Top Gifts for Groomsmen
Sep 30th 2022
If you've ever been in a wedding, you know the Groom usually offers up a gift to thank everybody in the wedding party.

Now the spotlight is on YOU, and it's time to step up and find the best Groomsmen gifts you can think of.

We've compiled a list of the best gifts to share with those who matter the most to you; gifts that are unique, thoughtful and fun.

Basically put, we've done the work so that you don't have to!

Read on for our curated list of the BEST gifts for Groomsmen.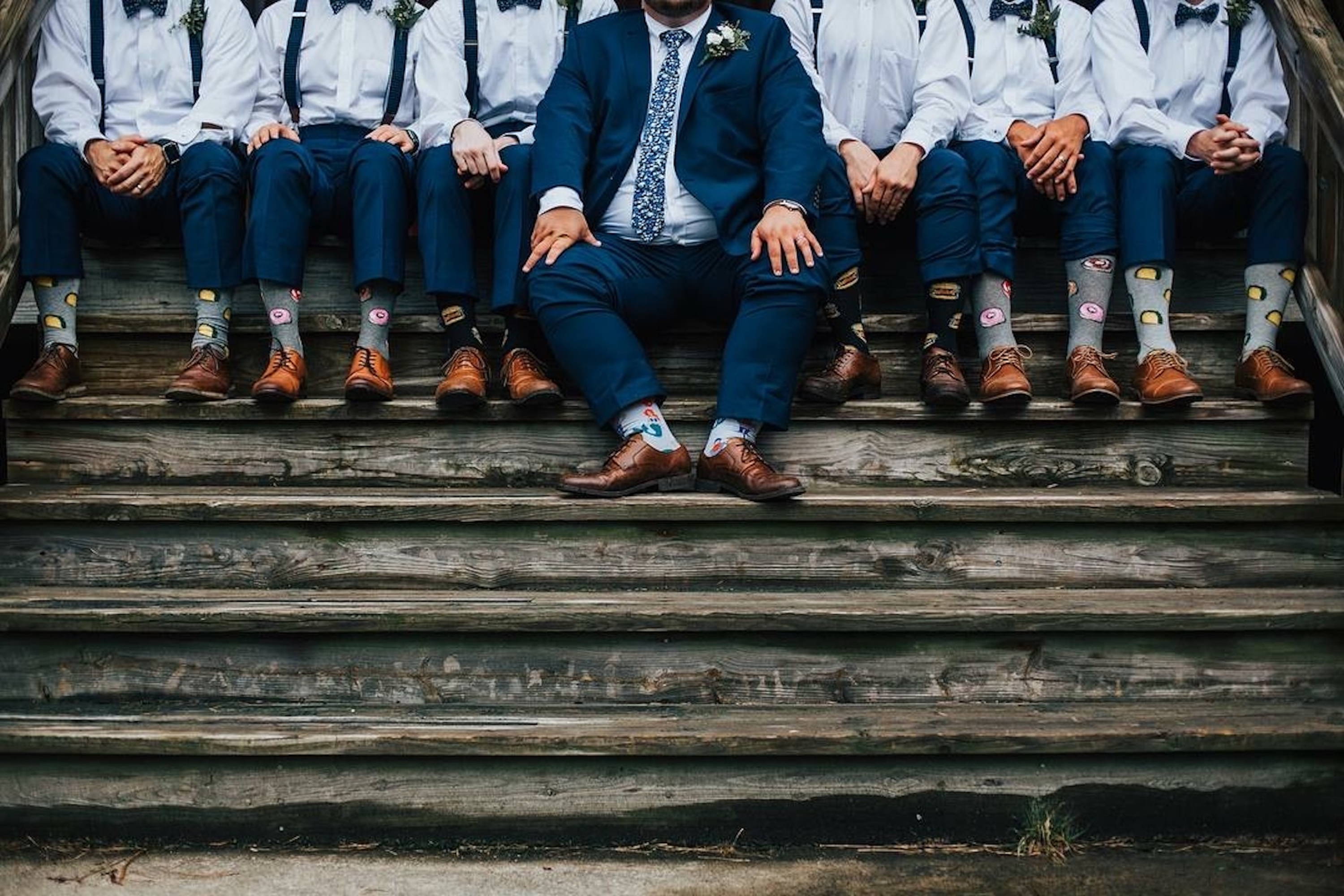 GIFT #1 - THE GROOMSMEN GIFT BASKET
Fill this basket up with EVERYTHING your friends need for your wedding day and beyond. The nice thing about this gift is that it can be personalized.

Some examples of things to include:
Their Groomsmen Accessories, including their tie or bowtie and pocket square.
A shoe-shine kit
Cufflinks, tie bars or clips
Novelty Ties (we have several to choose from!)
Mini bottles of their favorite liquor
The ingredients to complete their favorite cocktail (a can of Coke, Ginger Beer, Seltzer, etc.)
Flask or copper cup to go with it
A lottery ticket
Movie or concert tickets (where you'll join them after the wedding)
A gift card to their favorite restaurant
Joke book
Magazine subscription
Vintage style shaving kit
Leather wallet (put a $20 in for good luck!)
Hey look. These guys are going to show up in a suit ready to party with you. The least you can do is give them the gift of a good time!
GROOMSMEN GIFT IDEA #2 - GO CUSTOM
Handmade, custom, one of a kind pieces are IN right now.

Shop www.etsy.com or even Amazon for customized gifts, including flasks, beer steins and more.

Choose to use their monogram (initials) or name, or think of an inside joke that will make them laugh.

You can even use www.CustomInk.com to order custom hats, golf shirts or T-shirts! We recommend getting creative here; the sky is the limit.

We carry a collection of novelty and unique cufflinks, tie bars, pins and money clips; shop that collection HERE that offers everything from golf to aviation!
GIFT IDEA FOR GROOMSMEN #3
Instead of a physical gift, take them on an excursion!

Popular choices might include:

A private fishing trip (you can book charters across the U.S. from the ocean to the Great Lakes, to rivers in Utah or Colorado!)

18 holes of golf at an exclusive course and club, followed by the spa and a luxury dinner

Rent a houseboat and spend a few days cruising Lake Powell

Take your guys out on the town for goofy fun. Start with an escape room, move onto Ax Throwing (many cities offer this!) and finish the night with a late comedy show at your favorite club.
Eco-friendly weddings are in style right now. Offer your groomsmen an eco-friendly gift!
Tell them to wear a suit they already own, and encourage them to spend the money they saved on something else
Make a donation in their name to a favorite charity
Rent an electric car or limo service and tell your groomsmen to leave their cars at home. Carpool in style!
Give them cold, hard cash
It's time to suit up, guys!

We have curated a collection of ties, bowties, suspenders, pocket squares and more for your wedding.

Create the Groom's and Groomsmen look that's all your own.

Browse our wedding style guides below to get started.
Tag us on Instagram @jacobalexander.ny or send us an email! We'd love to feature your wedding and
engagement images wearing your Jacob Alexander accessories.