The Gentleman's Guide To Bow Ties
Sep 21st 2022
HOW TO SELECT THE PERFECT BOW TIE TO SUIT YOUR STYLE
There's no question that men's bow ties are making a comeback. Back in the day, there were only a few styles available. It was easy to find the right one for any occasion.
With the recent resurgence in popularity of bow ties and with so many colors, patterns, styles, and even different types to choose from, it can be tough to pick just one.
Bowties are now seen as a fun, stylish way to dress up any outfit. Whether you're dressing for a formal event or just want to add some personality to your everyday wardrobe, there's a bowtie out there for you.
Whenever you feel like a kid in a candy store picking out a bowtie and wonder how to choose the perfect one, Absolute Ties is ready to show you tasty options that would match your style.
We took a look at some of the most popular bowtie styles and types and we'll show you how to select the right one that suits your fashion statement.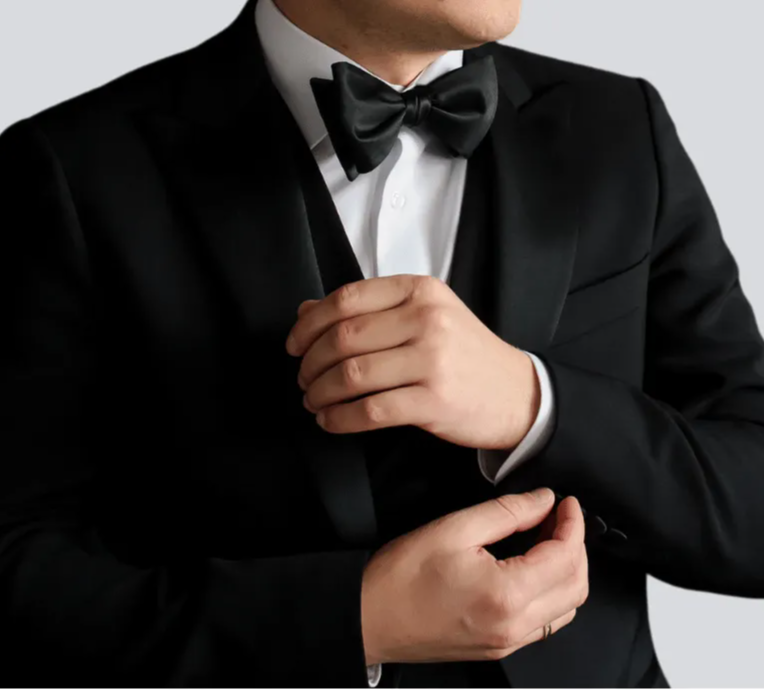 ---
TRENDING BOW
TIE PATTERNS
Anyone can wear a bow tie, but not everyone knows how to wear a bow tie. With the right language of bow tie patterns, you can compliment your outfit to look sharp.
Knowing which pattern to choose can make all the difference. Have a look-see on our favorite patterns.
Solids:
Live a little. Pop bold with solid color bow ties. Choosing men's solid color bow ties can add a touch of personality and sophistication to any outfit. Simply choosing your favorite color makes anyone feel confident and would define who you are. Redefine "stylish" by being you with a pop of color with solid color bowties no matter what the occasion.
Stripes & Dotted:
Standout with Personality

Steal the show with either a striped bow tie or a polka dot bow tie. Our men's striped bow ties can add a preppy look for your outfit. The men's polka dot bow ties are a classic accessory that can be dressed up or down or adding an extra bit of flair depending on the occasion. You can feel confident and stylish every time you step out!
Novelty:
State the Obvious

The one, the only, the bow tie that says it all—novelty bow ties. Men's novelty bow ties, more than what meets the eye, are never an understatement. Maybe it's the fact that they're not commonly seen, but yes, they are unique and add a touch of personality to an outfit. If you're looking to make a statement with your style with different designs and prints, a novelty bow tie is the way to go.
Corded & Mini Squares:
Subtle yet Elegant

There is something about a corded bow tie and a mini squares bow tie that emanates a subtle yet elegant presence. Tiny geometrical shapes and lines give off a contemporary, minimalist, and prim look to your outfit, reinventing subtle opulence. Keep it classy, not flashy. Set yourself apart by looking your best that exudes sophistication.
Gingham:
Swag Fresh Appeal

Time to nail your outfits with some swag and fresh appeal of wearing a gingham bow tie. Although gingham is usually worn during summer and spring, it's a classic print that can be dressed up or down, a versatile choice all year long. Look professional while adding a fun way of personality to your outfit with different patterns and colors.
Plaid:
Shine with Classics

Nothing beats the classics. Plaid is a cult classic that has been around for centuries and has always been a popular pattern in men's fashion, but it seems to be experiencing a resurgence in popularity lately. Plaid bow ties for men make any occasion even more special. Go from preppy, polished to rustic, and rugged, shine with classics with a plaid bowtie—a versatile choice for any man's wardrobe.
---
THE RIGHT TYPE,
YOUR KIND OF WAY

It's not always easy to know which bow tie type to choose. Especially with so many different types available with its resurgence, the bow tie type is a choice and you can definitely customize it your way. It's all about knowing your stuff so you can step up your style with your own preference. Let's figure out which one is best for your needs.
Freestyle Self-Tie Bow Ties:
If you're the type who loves to personalize your touch, our men's freestyle self-tie bow tie might just be what you're looking for. The freestyle bow tie doesn't require any premade loops or clips because you tie it yourself. You can create a unique look that's perfect for you. From the name itself, the classic freestyle self-tie bow tie allows you to be free and creative with your tie knot.
Clip-On Bow Ties:
Conventient

In 3…2…1… Clip! Our clip-on bow ties for men are hassle-free and deliver a convenient style in seconds. Not only men's classic pre-tied bow ties clip-on are quick and easy to put on, they are the solution when you need to make a quick fashion statement or if you're in a hurry. No need for tying skills, just clip it and nobody will know the difference.
A clever way to pull out tricks from your sleeve is magically strapping on our banded pre tied bow ties. It features an adjustable sliding band which hooks discreetly behind the bow on the other side. Our men's pre-tied banded bow tie is easy to size and painless to put-on. Strap it on and you're good to go.