How to Look Great in Wedding Photos
Oct 26th 2021
If you feel great, you probably look awesome. Focus on finding that feeling while you are shopping for your suit. When you find the right outfit, your comfortable and confident body language will transfer to the camera.

This may mean trying on styles you had not previously considered. Walk into the suit shop and tailor with an open mind. They can look at your body type and help you choose something that will make you look better than you can even imagine.
Consider purchasing a suit (in lieu of renting one, which could make you feel 'cookie cutter' on your wedding day) and keep this in mind: It's YOUR day too.
Nothing makes a wedding photo look awkward like...being...awkward. We hate to state the obvious here, but it's true.

Instead of being awkward, try this:

Be silly. Be romantic. Be touchy-feely. Make jokes. Laugh at each other. Pretend that the camera is not there.
Instead of focusing on how you look, focus on what this day is about: you and your partner celebrating the biggest moment of your lives.

When you get nervous about the photographer, try this: take a moment to stretch, wiggle your arms, crack your knuckles and put your game face on. You've got this (and you'll look best if your shoulders are not stressing themselves up to your chin!).
Your wedding day is about the moment, not the photos. Live in it.
Here are a few simple tips for looking sharp in your wedding photos.
Make sure your suit is well tailored and pressed
Remember the 'Sometimes, Always, Never' rule. On a three-button jacket, sometimes button the top, always button the middle, never button the bottom. In a two-button suit, always button the top but never the bottom.
Build your outfit in layers. Suspenders or a vest can really dress up your button down shirt and keep you looking sharp for when it's time to remove the jacket and party!
Choose ties, bowties and suspenders that not only fit the wedding aesthetic, but fit YOU. Be true to your style so that you feel like a Groom on your wedding day, not a photo prop.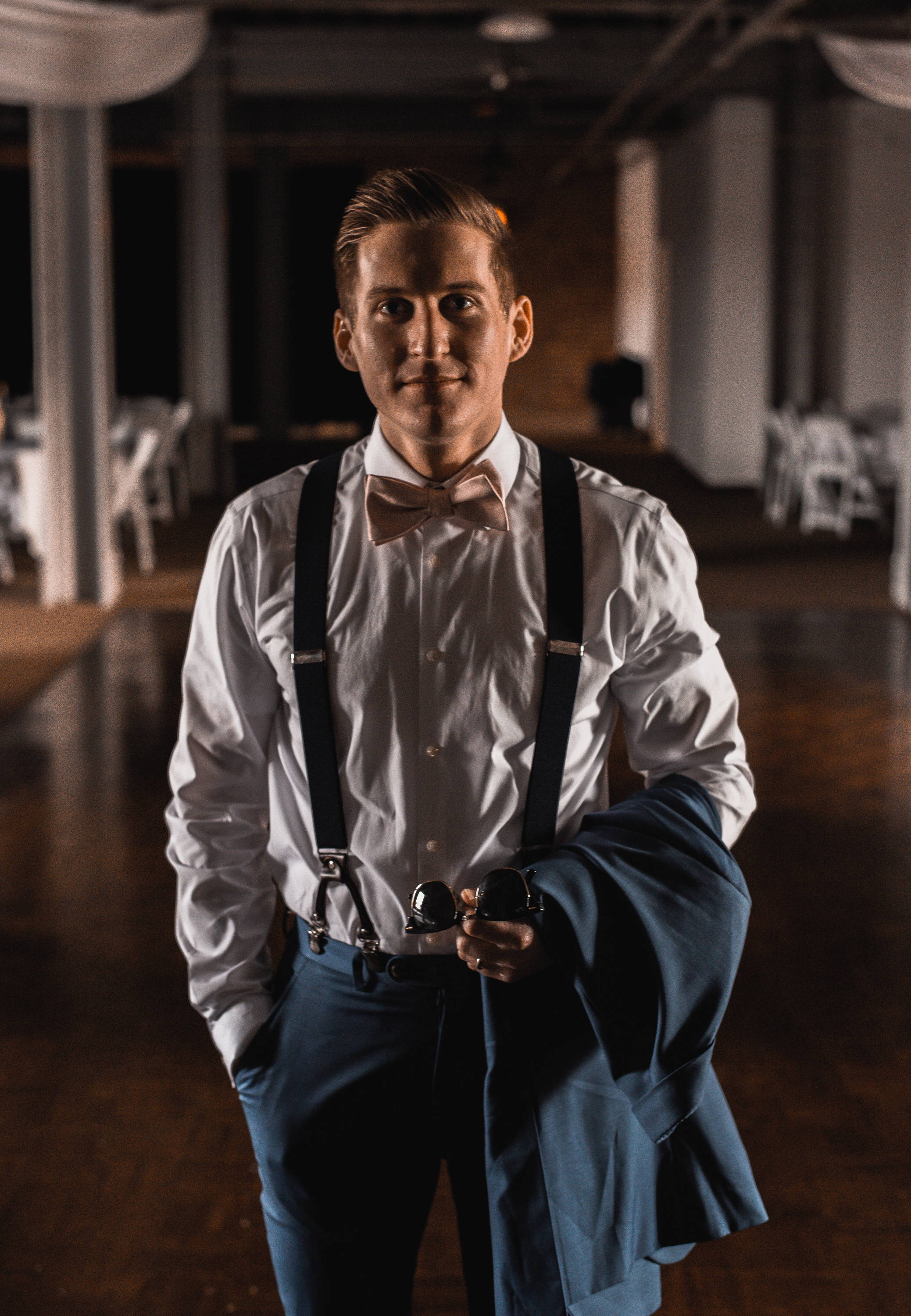 You are half of the wedding day puzzle; that is no small thing.
Make sure your photographer gets a great photo of you looking your finest. Be serious or be silly; just be yourself.

Keep your shoulders back, your head held high and your footsteps strong and with purpose. This day BELONGS to you!